Dialogue Programs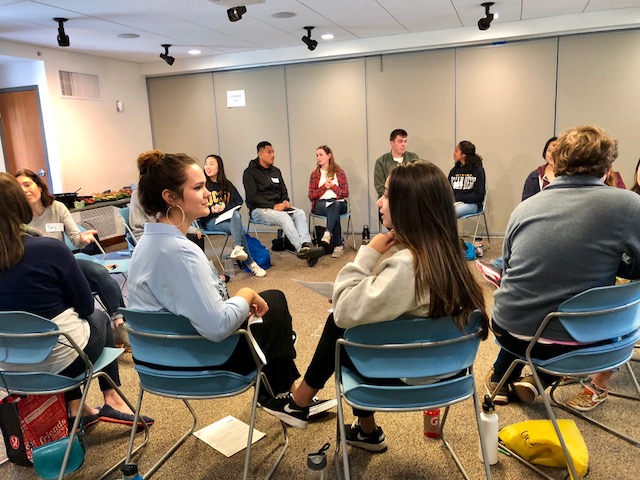 CSI's dialogue programs are open to current UC San Diego undergraduate students, graduate students, and campus partners.
Dialogue topics
CSI-Communication & Leadership and additional CSI staff members provide quarterly dialogue programs throughout the school year to engage in civil and meaningful discussions to learn about various perspectives on a range of topics. In Fall Quarter, we build intentional dialogue around connecting in virtual times and around the 2020 US Presidential election. Participate in a workshop in two ways:

Campus Conversations, open to all UCSD students

Request a workshop or workshop series
Dialogue programs offered
In collaboration with the National Conflict Resolution Center (NCRC), Tritons Together: Campus Conversations offers community building dialogue circles for the UC San Diego community.
A team of student Dialogue Ambassadors co-facilitate Circle Dialogues, known as community building circles. Co-facilitators provide a structured environment to generate dialogue among participants on a specific topic. Circle Dialogues foster open and supportive spaces for people to talk about differences, develop empathy and enhance perspectives.
For Fall 2020, Dialogue Ambassadors will be facilitating virtual community building circles. Click each session to register:
We would like to lessen the disconnect that students feel at UCSD especially now where departments are so separated and the only modes of communication are emails and zoom calls. Our goal is to make students feel more supported.
We'll host a virtual circle exploring the importance and concept of voting in America.
What are our expectations for democracy? How was your experience voting during a pandemic? Come join us and share your stories.
A virtual circle to talk about what matters to us and what still holds true for us at this point, a week after the elections. Come join us and share your stories.
Although the election will be over, for many this would have been the first time voting and would be a good topic to discuss. And for those who will not be able to vote, this will be a space to just reflect on any anxiety about the election.
Join fellow UCSD students in recapping our first fully virtual quarter and sharing your highs and lows while de-stressing with mindfulness moments.
Request a dialogue
Looking for ways to increase connection during virtual times? Dialogue Ambassadors will work with you to facilitate one or more conversations that create community, friendships, and new ideas. Student facilitators are available at no cost to student organizations, departments, and student groups.
Please submit your request using the following Google Form.
Questions? Email dialogue@ucsd.edu