Custom Workshops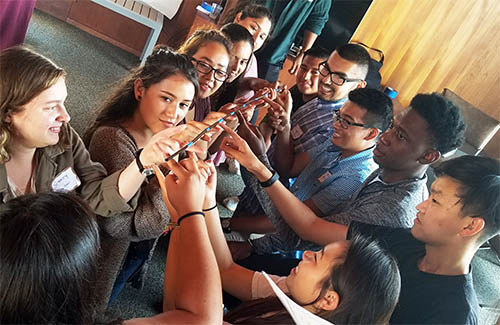 CSI - Communication and Leadership provides custom workshops focused on developing students' leadership and communication skills. Workshops are free of charge for audiences where a majority of the participants are UCSD registered students or university faculty/staff who work with UCSD registered students.
Fall 2023 - Spring 2024
Guidelines 
Have a minimum of 10 participants

Must be at least 1 hour long

A maximum of two (2) hours per quarter may be requested per requesting group

Workshops can be a part of a recurring meeting, conference, training, or retreat, but cannot be used to fulfill programming requirements of requesting group

Select the communication & leadership topic that best represent your intended ideas, goals, and objectives for your custom workshop (1 topic is only allowed per custom workshop)

Submit request with three (3) weeks (21 days) notice of of the custom workshops requested date(s)

Workshops are available Monday through Friday between 9 a.m. - 4 p.m. Workshops outside these times subject to staff availability.
 

If your custom workshop request meets our guidelines stated above please use the link below to complete your request.

Custom Workshop Request Form: https://bit.ly/ccl_customworkshop23-24 

If your request does not meet the guidelines you can contact the C&L team to discuss your request for consideration by emailing: The CSI - Communication & Leadership team at ccl@ucsd.edu 

Questions? Email CSI-Communication and Leadership, or call (858) 534-0501.