Seminars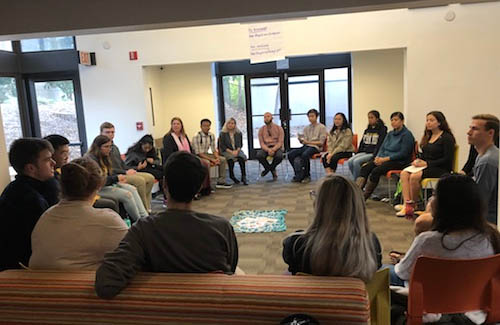 Seminars are open to current UC San Diego undergraduate and graduate students.
Quarterly seminars
CSI-Communication and Leadership offers non-credit seminars that develop students' leadership, professional, and social skills through fun and interactive activities and discussion.
Beginning Week 3 of each quarter, the seminars meet twice a week for eight 80-minute sessions in a cohort-based learning environment. Participants are asked to attend all sessions for optimal learning from the seminar.
Students who attend all sessions and successfully complete assigned exercises will be given a certificate of completion and a validation of the seminar on their Co-Curricular Record.
Winter 2023
Interpersonal Relationships Seminar
(Weeks 3-6: January 24 to February 17 | Tuesday & Thursdays in-person | 10:30 -11:50 AM)
Interpersonal Relationship Seminar seeks to help students:
Learn about their leadership and personality styles

Develop skills to improve relationships 

Build confidence to present your ideas and thoughts more effectively

Explore conflict resolution techniques

Meet other students and learn in a cohort-based environment

Earn a certificate and CCR validation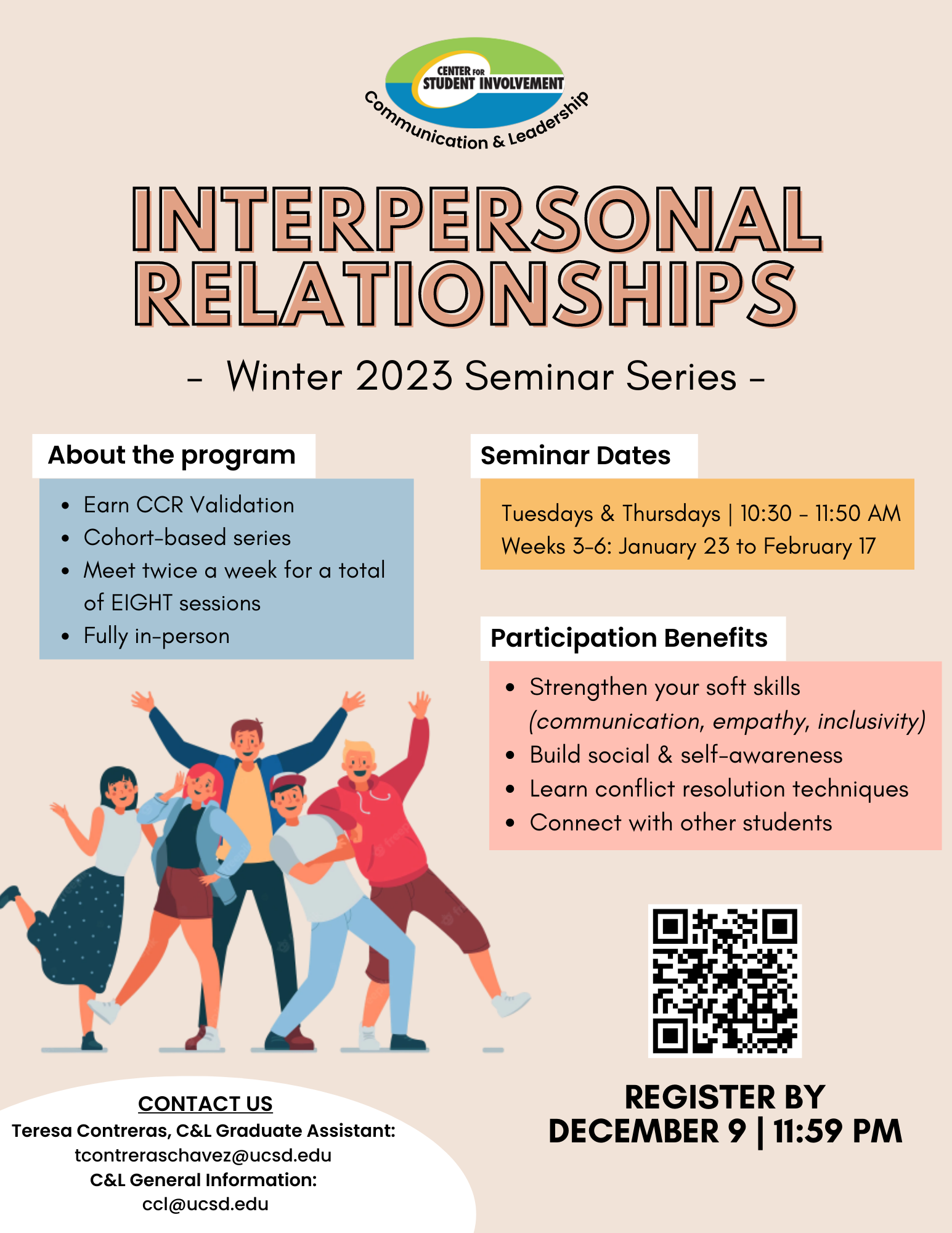 For any questions, concerns, or accommodations, please email our Communication & Leadership Graduate Assistant, Teresa Contreras at tcontreraschavez@ucsd.edu. 
For more information about any of our programs, please visit ccl.ucsd.edu or email: ccl@ucsd.edu
Seminar topics offered
Emphasizes the development of competencies on social justice and equity-mindedness through experiential activities and discussions that seek to help students:
Gain awareness of their social identities and group memberships.
Explain how socialization has impacted their identities, actions, and decision-making.
Understand the various levels of privilege, power, and oppression.
Identify practices to implement as an equity-minded leader.
Emphasizes the development of social self-confidence and "people skills" through experiential learning activities that address:
Initiating and developing relationships with peers, staff, and faculty
Listening and self-disclosure skills
Understanding personality styles and group dynamics
Using inclusive practices and cross-cultural communication
Navigating difficult conversations 
Develop public speaking and presentation skills through practice speaking activities covering these topics:
Developing appropriate nonverbal communication and body language
Speaking with confidence and impact
Dealing with stage fright and anxiety
Speech preparation and practice
Preparing visual aids and utilizing technology
Emphasizes the recognition and development of students' natural talents by using Strengths Framework, Clifton's StrengthFinder, and engaging activities that help participants:
Gain an awareness of their greatest talents
Understand how their talents have helped them be successful in the past
Determine how they can use their talents in classes, the workplace, and student involvement
Learn about how they can further develop talents into strengths.
Apply their strengths to build a comprehensive picture of the leader they want to be
Questions?
Please email
ccl@ucsd.edu
. Thank you!