EducationCorps

The EducationCorps Program encourages UC San Diego students to get involved in their community by sharing their time and skills with youth.
Our mission is to improve education equity in San Diego by supporting learning in Title I K-12 schools in our local community. We strive to create a community in which all children have access to the resources that they need to succeed. 
Why Join EducationCorps?
By joining EducationCorps you will...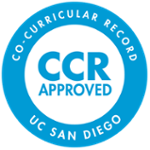 Support equity and anti-racism in K-12 schools
Fight poverty and make a lasting difference in your community
Connect with fellow UC San Diego students, staff members, local educators, and K-12 students in the community
Build your resume and develop professional skills through monthly workshops
Have the opportunity to grow with the program and earn leadership positions
Receive validation on your Co-Curricular Record and receive a personalized letter of recommendation upon request
Carla Espinoza
Major: Biochemistry and Cell Biology
"I love going to my school site each week, seeing my students smile as I enter the classroom, and being there as they grow and learn and improve on their academic skills. I hope to inspire them to pursue a higher education and help them realize that they can accomplish anything with hard work and determination."
Lily Nguyen
Major: Political Science, Philosophy, Public Policy
"It is rewarding for me to see students grow in their studies and in their lives through our tutoring and mentorship. Giving students the extra attention is important because everyone learns at a different pace. And by giving teachers an extra hand, students are not just caught up to the material but become more open to the idea that they can learn new things and are willing to try with the opportunity and the right mentality. I am also optimistic everyday for the future of education as I work alongside so many patient and dedicated volunteer
Mission Bay High School: At Mission Bay High, over half of all students are first generation, low income, and underrepresented, with about 75% minority students on campus. Mission Bay High has a very strong focus on creating a college going culture and encouraging each student to look into their options after high school. They have created an after school program for all students to receive help with homework, college apps, etc.
John Muir School

:

John Muir School is a K-8 school where over half of all students are first generation, low income, and underrepresented. John Muir has a unique Language Immersion Program, which exposes all students to another language starting in Kindergarten. Students have the choice to focus on French or Spanish. John Muir strives to empower students who are global citizens and lifelong learners.
Ross Elementary

:

At Ross Elementary School, students and teachers from diverse backgrounds come together to create a safe and respectful classroom environment. Students are encouraged to stand up for what is right and to take on leadership roles at a young age through their Leader in Me Program. In addition to this, Ross has partnered with local businesses and organizations to strengthen their ties within the community.
Spreckles Elementary

:

EducationCorps tutors assist in Spreckles' After-school Math Academy by helping students understand tough concepts and develop a love of math. At Spreckles, all students attend music class weekly, and students have the option to take language immersion classes.
Below the steps for joining EducationCorps are outlined:
Once you complete your application, you will be invited to join our SLACK channel. Join the channel labeled #Start-here to get directions for

Volunteer forms
CANRA training

Join the channel for the project you're interested in supporting - please note that depending on need, you may be asked to support one project over another.
A student leader will reach out to you with information on upcoming meetings and trainings, and help get you placed in a virtual classroom.
All forms and training must be completed prior to tutoring and mentoring. Additional training may be required depending on which project you support.